1999 Gretsch 6121 Roundup
20 September 2015
I bought this Japanese made Gretsch in October 2012 to replace the vintage 6120 that I sold earlier in the year. It cost me about half what I got for the 6120 and it is in virtually mint condition. The previous owner said that he got it from Tennessee.
I put a '50s pinup girl decal on it because I didn't like the G brand (see picture below compared to picture at right). The decal can supposedly be easily removed with water if I ever decide to sell it.
The trouble with old Gretsches is they're a bit fragile, the binding always falls off and from what I've heard they usually need neck resets sooner or later. The new Japanese ones seem to be built better and they seem to play and sound just as good or better too.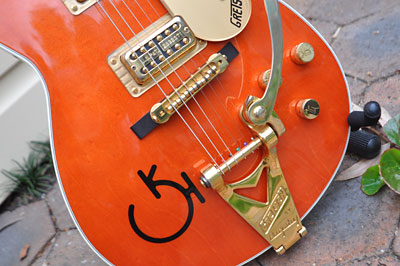 As I originally bought it - original pickups, pick guard and G brand
This one was made in September 1999, a few years before Fender took over in early 2003 which may be good or bad or a combination of both. Online opinions seem to be that quality actually improved after Fender took over, although much of that may have been posted by Fender itself. In any event the models are apparently now more "vintage correct" than previously, if that matters to anyone. My one is an example of that because it seems to be a hybrid model that is not the same as any vintage model. See the table below.
| | Mid 50s | Late 50s | Mine |
| --- | --- | --- | --- |
| Narrow peghead | | | |
| Leather trim | | | |
| Zero fret | | | |
| Mud switch | | | |
| G brand | | | |
| Pickups | Dynasonic | Filtertron | Filtertron |
| Position markers | Western | Thumbnail | Western |
| Peghead logo | Steer head | Horseshoe | Horseshoe |

Western motif pearl position markers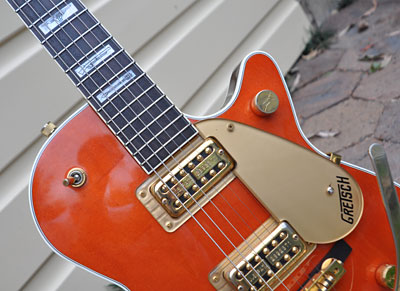 Original pickups and pick guard
It looks like it has a mahogany body with an arched maple top, binding on the front and back, a 3 piece mahogany neck, bound rosewood fingerboard and a 24.6 inch scale (Source: Guitarworld), and a floating tunomatic style bridge with an ebony base. All the hardware is gold plated so it looks like a gigolo's jewellery box. The peghead has a very nice flamed veneer of some kind. Like all my previous Gretsches the frets are a bit narrow for my liking, but on this one they are not too low so it's still very playable for me.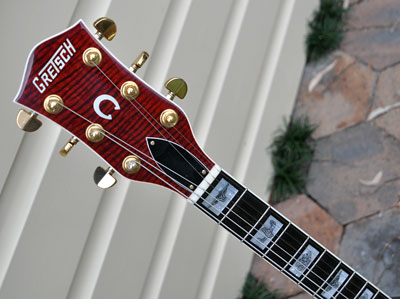 In May 2013 I got some gold plated TV Jones pickups direct from the factory and they were a lot cheaper than I expected - about $300 or so for the two of them - but it cost me another $150 to get them fitted. It has made a pretty noticeable difference to the sound.
I have also now put a tortoiseshell pickguard with steer's head motif on it. This style pick guard was on the very first mid '50s models with the dynasonic pickups, but I'm a sucker for tortoise shell and this guitar is a hybrid anyway.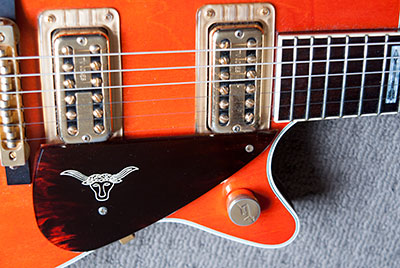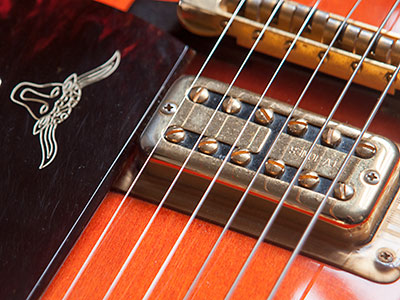 TV Jones bridge pickup
I used this guitar during late 2012 and 2013 in the Sons Of Sun show and it was perfect for that early Rock & Roll / Rockabilly sound. The Bigsby works great and stays perfectly in tune, largely because of the bridge I think. The bridge saddles seem to be some kind of nylon roller arrangement so the strings move freely across it and don't get stuck.
More Info