1993 Gibson Starburst Elite
21 March 2015
I bought this one from Colorado USA in August 2007. I sold it to a young singer / songwriter in Derbyshire UK in November 2009. You can see her play this guitar in the video on her web site.
These were only made for a couple of years in the early '90s, in Bozeman Montana. My one came in a brown alligator pattern case with a padded blanket to cover the guitar.
The Starburst came in a standard model - with a rosewood fingerboard and bridge, no binding on the neck or headstock, and no centre strip on the back - and the much rarer Elite model with binding on everything and ebony everywhere. I believe that only a couple of hundred were ever made, maybe less.
The following ad for a Cherry 1992 Starburst appeared on ebay UK in September 2008. It sold for £899 and its photo appears below the ad. I can't vouch for its accuracy but it seems credible:
In 1992, as part of its Limited Editions Series, Gibson produced the Gibson Star and its more elaborate stablemate - the Gibson Starburst. The Starburst was produced for one year only (1992) and is very rarely seen offered for sale - even in the US.
In 1993 Gibson went on to produce the Starburst Studio (see bottom of page), Starburst Standard (see a bit further down) and the ultra rare Starburst Elite (see my old one on the right).
The Starburst usually has a solid figured maple body and neck and a flamed maple top. Quilted maple was usually reserved for the Starburst Elite (only a handful made)...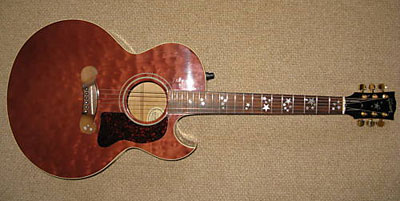 The cherry one in the ad above
Unusually for an acoustic guitar, the whole body is made of highly figured maple. This makes it look spectacular, but makes the acoustic sound fairly bright - not at all the boomy big sound that Gibsons are known for. However this actually works in its favour when playing live. It is very feedback resistant and you don't get the low frequency drone of the lower strings. It has a very bright clean and crisp sound through a PA.
Note the Mother of Pearl star inlays - there are over 30 of them on his guitar - headstock, fingerboard and bridge.
These guitars were made in some truly horrendous colours - have a look at the pics of the Starburst Standard models below. The amber one is not bad but I wouldn't be seen in public with any of the others.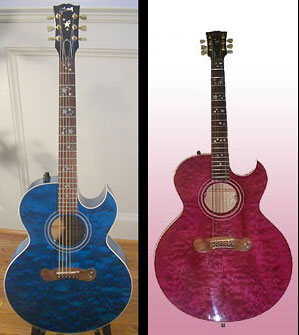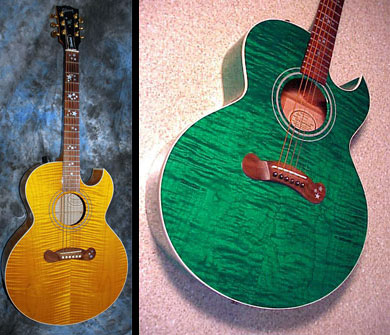 Below is a Starburst Studio advertised on ebay in November 2009 - a much more budget model. The top looks like spruce, there are a lot less inlays, and it looked like the back may have been arched (but it might have been a trick of the light in the photos). It went for US$900.